Vital 50+

®

Multivitamin & Minerals + Ginkgo Biloba & Ginseng
Vital 50+

®

Multivitamin & Minerals + Ginkgo Biloba & Ginseng
Food Supplement
Sanatogen® Vital 50+® is a source of 22 essential vitamins & minerals. It has been specifically formulated for adults aged 50 years and over to help maintain all round health and vitality as nutritional needs change. It is also enriched with Gingko Biloba & Korean Ginseng. Sanatogen® Vital 50+® daily supplement can be taken for your:
IMMUNITY – Vitamins A, C, D, Iron & Zinc each help support your immune system, your body's natural defender.
ENERGY RELEASE – Vitamins B2 & B12 each help your body release stored energy & helps to reduce tiredness & fatigue. 
BONES & TEETH – Vitamin D & Calcium each help to maintain healthy bones & teeth. 
HEART – Vitamin B1 contributes to the normal function of your heart. 
BLOOD – Folic Acid contributes to normal blood formation.
SKIN & VISION – Vitamins A, B2 & Zinc each contribute to the maintenance of normal skin & vision.
How to take Sanatogen® Vital 50+
Adults 50 years and over: take 1 tablet a day with water, preferably after food. 
Safety information
Taking more than the recommended daily intake may be harmful. This product should not be used to replace a well-balanced diet and a healthy lifestyle. Contains Iron which is harmful to young children if taken in excess. Contains Vitamin A; do not take if you are pregnant or likely to become pregnant, except on the advice of a doctor or antenatal clinic. Contains Ginkgo & Ginseng; if you are under medical supervision consult your doctor before taking this product.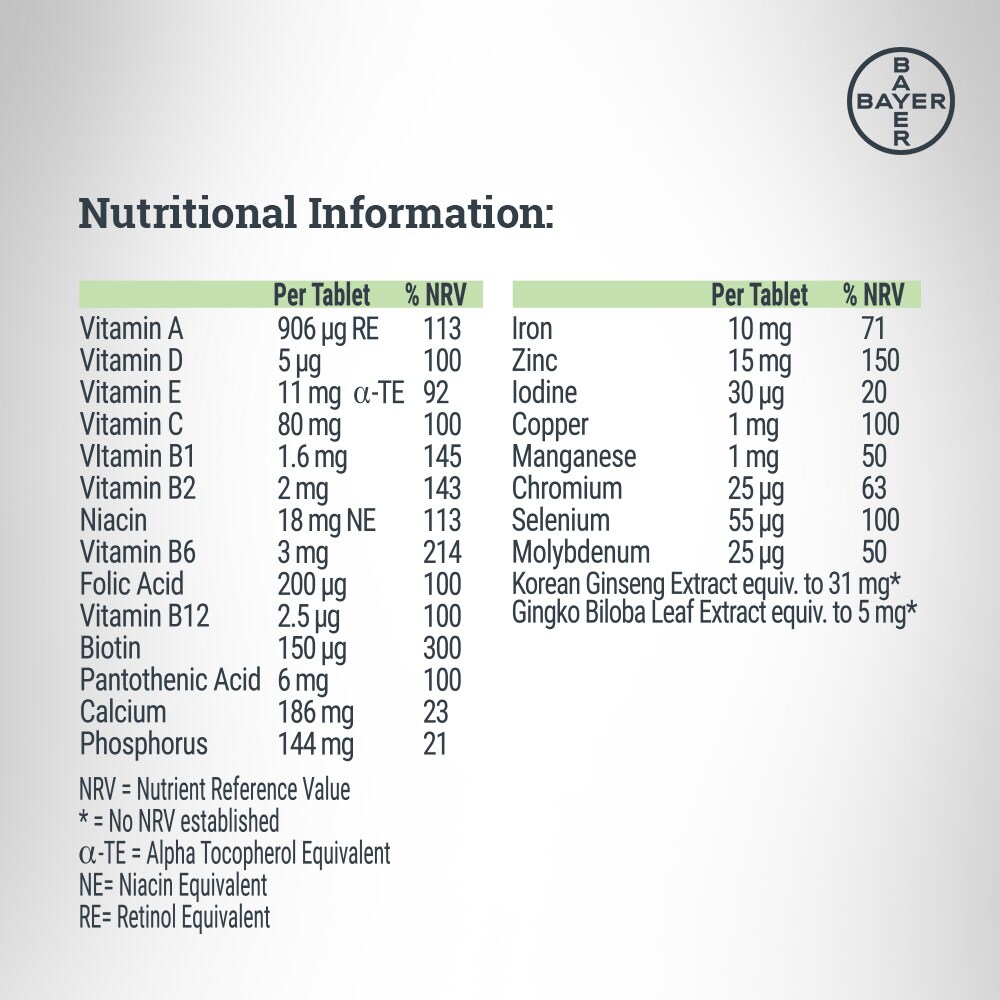 Ingredients
Dicalcium Phosphate, Cellulose, Vitamin C (Ascorbic Acid), Magnesium Oxide, Potassium Chloride, Ferrous Fumarate, Hydroxypropyl Methylcellulose, Zinc Oxide, Niacin (Nicotinamide), Vitamin E (DL-Alpha-Tocopheryl acetate), Magnesium Stearate, Cross-Linked Sodium Carboxy Methyl Cellulose, Silicon Dioxide, Colours (Titanium Dioxide, Iron Oxide), Calcium Pantothenate, Vitamin B6 (Pyridoxine Hydrochloride), Manganese Sulphate, Glycerol, Copper Sulphate, Korean Ginseng Extract, Vitamin B1 (Thiamine Mononitrate), Vitamin B2 (Riboflavin), Vitamin A (Retinyl Acetate), Folic Acid (Pteroylmonoglutamic Acid), Biotin, Sodium Selenite, Ginkgo Biloba Extract, Chromium Chloride, Sodium Molybdate, Potassium Iodide, Vitamin D (Cholecalciferol), Vitamin B12 (Cyanocobalamin).
Your health is in your hands
*Multivitamins are intended to supplement your diet and should not substitute a balanced diet and a healthy lifestyle.